Hello all, RogueGOOSE1 just finished his stream for the day. While streaming, I thought about other games that would be fun to play. Then I thought it would be excellent to do a Top 5 Games you can Play Right now post on the blog. So here it is. This list is in preparation for a more in-depth series of blog posts. I want to do a full list of great games to try out and how to do so; as well as, deep dives into each game itself.
As we get closer and closer to next generation consoles, and NVIDIA stepping their game up to widen the gap between PC and console – we realize there are still tons of great games that can still be played. Many of them you may not have heard of. Some you definitely have.
So let's dive in.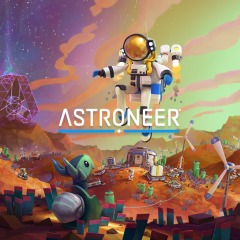 5. Astroneer – Platform: PS4, XBoxOne, PC – System Era Softworks developed this sandbox adventure game which delivers astonishing graphics. Mine resources, build structures, and colonize planets with your friends. People are in love with the beautiful assortment of colors and bright scenery this game has to offer. Players also rave about being able to terraform the planet you are exploring more so than any other game. More so than No Man's Sky? That's hard to say.
Honorable mention at 5. No Man's Sky – Platforms: Ps4, XBoxOne, PC – This was one of the most anticipated games of 2016. Long story short, the game did not even come close to meeting expectation upon release. After 4 years, it has been brought to a very high level of game. Many of the qualities described about Astroneer also apply to No Man's Sky.
4. MineCraft – Platforms: Ps4, XBoxOne, PC, Nintendo Switch, Mobile – MineCraft is one of the most iconic PC games ever to come to console. This game popularized sandbox games on console which allowed other developers to get in on the market. For a game that has been around as long as this one, this game has a huge following and player base. Craft, collect, and explore your way to an internet sensation with this game!
3. Subnautica – Platforms: Ps4, XBoxOne, PC, Mac. – Subnautica started it's journey, like many games do, on PC. Console players waited patiently for this title to make it to their systems. XB1 and PlayStation players got ahold of it and haven't let go. They're raving about this unique survival's beautiful underwater landscapes and playability.
Before getting into the top 2 games you can play right now..
I play a ton of different games. I love everything about many different types of games. From table-top to VR, I'm here for it. These games are not just games I enjoy. They're not just sandbox or open-world games. I have created a list of about 100 games that are more than worth checking out. I plan to reveal the whole list on this blog. Here I selected just 5 from the list that are worth playing before next generation console release. I hope you are enjoying the read!
2. Ark: Survival Evolved – Platforms: Ps4, XBoxOne, PC, Nintendo Switch, Mobile. – Right now you may be thinking:
This Game is Broken
Player base is DEAD
Too many bugs!
Developer's killed the game
Or.. Something along those lines. Truth is, the ambition of this game is huge. That is partly why it has had bugs and other issues in the past. These bugs do suck, but for what the game is, it's worth fighting through. Truth is, everyone experiences these bugs, but not everyone believes it is broken. It happens. This game allows you to tame unique and historic creatures and do amazing things. I highly recommend this game to everyone. More of base / tower defense than real deal PvP, but the Player community is wild.
Call of Duty: Modern Warfare & Warzone – Platforms: Ps4, XBoxOne, PC, Mobile. – Okay guys. This is the TOP game out right now. Gamers, content creators, and anyone who knows anything about games at least knows about Warzone. The 2 games here, MW & WZ, cater to a huge player base. Some play one or the other, yet many play both. FPS and Battle Royale are 2 of the most popular genres out there and here is both in one game, should you acquire both games. There is also an excellent pre-order reward in these 2 games should you decide to pre-order Call of Duty Black Ops: Cold War!
So there it is guys, my Top 5 Games You Can Play Right Now is published. I hope you all enjoyed the read. Join us on discord to discuss further! Subscribe to wordpress to get the full list and other future lists!